Sparke Helmore City Triathlon
Event Info
25 Feb 2018
The Sparke Helmore Newcastle City Triathlon places a strong emphasis on enjoyment and participation. Why not capitalise on the opportunity to promote team building and friendly rivalry and request a pre-ordered corporate marquee for the day or book a table at the Queens Wharf Hotel. It's so easy, all the work is done for you.
Sports Expo
The event offers the opportunity for sports and health related businesses to market their products and services via our Sports Expo. This is an ideal opportunity to do some very targeted marketing and engage with potential customers. Space will be limited and packages are available below. To reserve your position please contact us on paul@hevents.com.au or call (02) 4934 8138
Team, Family, Staff or Client Marquees
A limited number of different-sized sites and marquees are available, including items such as chairs, tables and barbecues. Marquees and equipment will be assembled on site when you arrive on and will be dismantled after the race presentation on Sunday afternoon. Hiring a marquee is an ideal way to have a strong corporate presence on the day. Contact paul@hevents.com.au or call (02) 4934 8138
Food
Being located next to the Queens Wharf precinct gives you any number of opportunities to dine. Details available shortly.
Expo Booking Form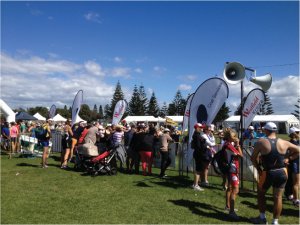 Share:
Event Races
Updates