Sparke Helmore City Triathlon
Corporate/Enticer Triathlon
21 Feb 2021
Corporate/Enticer Triathlon
Sun
21 Feb
Start:
9:45am
Location:
Newcastle Foreshore
Distance:
300m swim, 12km cycle, 2.5km run
Price:
Early Bird Individuals from $80, Relay Teams from $140 (plus processing fee)
A short course triathlon for short course specialists or novice triathletes including businesses. The cycle leg is a 3 loop course from Queens Wharf to Newcastle Beach including part of Wharf Rd. The cycle and run course is flat.
Who's it for?
Competitors 13+ years of age who can complete a short course triathlon. You can choose to complete all 3 legs OR form a relay team and complete 1 or 2 legs.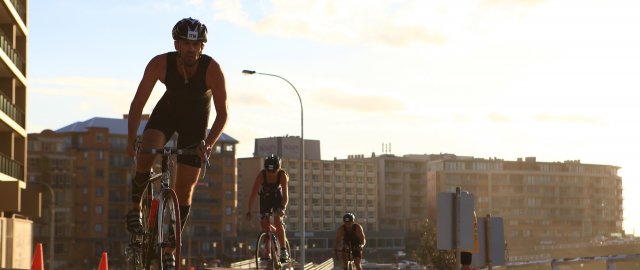 Note the Corporate/Enticer cycle leg has only one small hill each lap.
Prizes
The race will be timed using electronic timing. There are open and category place prizes awarded for each event. The event is aimed to encourage participation in healthy and fun sport activity. There will also be random prize draws during the presentation.
Race Safety
Your safety during the race is of paramount importance. Participants are advised to prepare adequately for the event. You should drink plenty of water before and during the event and apply sunscreen before the race.
Marshals will be placed on the course to direct and assist you. The team from Life Survival will be available to administer First Aid. During the swim you may rest on a buoy but you must not move forward. If in trouble, raise your hand for assistance.
If you are having physical difficulties please advise a marshal.
Race Registration and Limit
Secure your entry via the online entry system. See the entries tab above. Please pre enter for this event as we are limiting the entries to 400 competitors. We expect this to fill quickly.
Race registration is where you confirm to officials you will be racing and then you will collect all official race number and kit required to race.

Race registration and race kit collection will take place at the race compound at Queens Wharf, off Wharf Rd, Newcastle on Saturday 22 Feb from 10am to 4pm and Sunday 23 Feb from 5.30am.
Please note: You must be registered at least 45 minutes prior to your race start.
See the main information tab for more Triathlon tips
Beginners Guide to Triathlon
Share:
Event Races
Course Video
Updates